At Spanton Readerboard Supply, we know that your readerboard sign is one of the most affordably effective methods of advertising you have. Our highest priority is to deliver the best quality product available with prompt, courteous and knowledgeable assistance at very reasonable prices.
With over 30 years in the readerboard sign letter industry, Spanton Readerboard is the premier national supplier of changeable marquee and readerboard sign letters including Zip style, Gemini and Wagner brands. Spanton Readerboard Letter Supply provides changeable marquee letters to restaurants, schools, theatres, cinemas, convenience stores and more! Whether you are looking for a specific size (6 Zip, 8 Zip, 10 Zip style letters) or a specific brand name (Zip style, Gemini Pronto, Change-Ad, Bevelite Adler, Wagner Slotted, Flex Letters, E-Z Change, Hynek, and Fast-Ad), Spanton Readerboard Supply is the place to purchase marquee readerboard letters.
Placing orders with us is easy... we talk you through our process carefully to insure that you get what you need, the first time. We then securely store your information so your reorder is a snap. If you haven't seen what your looking for in our web site, please call us, we could have just what you need.
We proudly offer the following quality products for your reader boards & marquees:
We currently ship from four convenient locations across the United States.
Yakima, Washington
Taylor Texas
Decorah, Iowa
Melrose Park, Illinois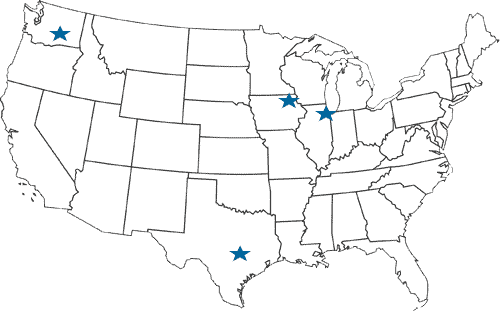 Spanton Readerboard Supply...
Serving all your reader board sign needs!
*10% DISCOUNT ON FULL SETS - Discount is included in the list price on our order page. Discount prices are based on credit card, prepay or on approved accounts that pay with our 30 day net special guidelines.
**Free shipping on letter sets of 300 or more. Only available within the continental U.S.